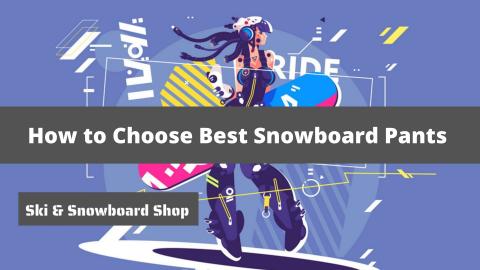 Buy the best Snowboard and Ski Pants
If you are a fan of winter sports such as skiing or snowboarding, you probably pay special attention to the choice of equipment and clothing, as they will help you enjoy your ride. Clothing is an important part of any sport, as it often performs important functions. Thus, snow and ski lovers need to choose the right pants in order to keep your lower body dry and comfortable. Thus, if you want to choose the best pants, you need to take a little time to learn the basic information on how to do it. Remember that you should do this for your own comfort. The fabric, function and style of your riding will be important considerations when choosing pants. Explore the most important categories in order to make the right choice.
Waterproofing
When choosing pants for ski or snowboarding, it is important to pay attention to waterproofing. As you know, the majority of ski and snowboard pants have a waterproof rating, which can vary. Typically, this is from 5,000 to 20,000mm. If you are a beginner and have never heard of this before, then you should remember that the higher the number, the more water-resistant the fabric. You can also look at high-end fabrics such as Gore-Tex and eVent. They have no specific ratings as they have excellent waterproofing. It is also important to pay attention to seam taping as it directly affects waterproofing. The best option would be fully taped seams.
Waterproofing also depends on the weather and the region where you are playing. If you prefer to ride where it is wet and warm (like Washington) then you need a fabric with a high waterproof rating and fully taped seams. This way you will be protected from wet snow. If you prefer dry areas like Colorado, then lower waterproof rating pants will be enough.
If the price is important to you, then of course the highest cost will be the most waterproof pants, as well as the amount of seams taped. So, if you ski or snowboard on a regular basis, it makes sense to spend a lot of money to have waterproof pants, but if you only ski a couple of times a year, then this is not necessary. Also remember about the climate: when riding where it is wet and warm, you should buy pants with a high degree of waterproofing to feel comfortable and dry.
Warmth
Before buying pants for skis or snowboarding, you should also pay attention to another important factor - the warmth. If the ski and snowboard pants are uninsulated, then they feature a shell with some type of lining for an extra warmth and comfort. This way, if your legs don't get very cold, wear pants over a light base layer will be enough. However, if you freeze easily, it will be better to wear several layers to keep from getting cold. Of course, it is worth focusing on weather conditions, so sometimes you have to increase the amount of layering.
If you like long treks, then you need other pants that will be as light as possible. Thus, if breathability is important to you, you should try wearing unlined pants. Generally, unlined pants are for backcountry skiing.
The last option is the warmest, these are the so-called insulated pants. As a rule, this type of pants has light, low-profile synthetic insulation to add some extra warmth. Always focus on humidity, weather conditions, frost and your personal feelings when choosing pants.
Important features to look for
Aside from being waterproof and warm, there are a few other key features you might want to consider when skiing and snowboarding. Of course, the importance of features will depend on both the type of ride and personal preference. In any case, it will be useful for you to study the main ones in order to understand whether you need it or not.
Venting is the hallmark of a wide range of snowboard and ski pants. Zippered vents open up to allow you to dump heat and promote air circulation. This feature is there in case you get too hot. As for the location, most often they are on the inner thigh inseam. Venting is not the most essential feature for pants, however many riders find it very convenient and important.
Built-in Gaiters can also be useful to a large number of skiers and snowboarders. Gaiters are found in most sports trousers such as skiing and snowboarding. Gaiters are designed to keep snow out of your boots and lower extremities. Most often, they are found under the cuff of the pants. Whether you are an experienced snowboarder or a beginner, built-in gaiters are a good addition to make your skiing comfortable.
Also, you need to pay attention to the pockets. Many riders prefer to concentrate on more important things, but pockets can be very useful if you prefer long rides. Thus, with cargo pockets, you can take snacks or other essential items with you. In the event that you are taking a backpack with you, standard hand pockets may be enough. Research your needs and desires before purchasing pants.
A jacket-pants connection is a must-have feature for people who love riding in deep snow. System that connects your pants to your jacket is designed to prevent snow and wind from making its way up your jacket and down your pants. In this way, you can be completely protected from both snow and conditions.
So, as you understood, ski or snowboard pants are not a purchase to be made mindlessly. It is necessary to pay attention to a large number of factors that can affect not only your day, but also your health. It is important to choose waterproof, warm pants with all the necessary features in order to avoid hypothermia and cope with the weather conditions.