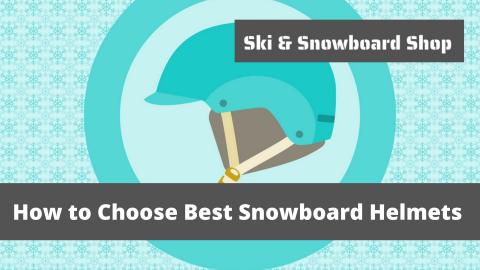 When practicing any kind of sport, it is important to have protection in order not to get injured. Thus, you need to care not only about sports equipment but also about protective helmets. This is especially true for winter sports when it is very easy to get injured. So it doesn't matter if you are a skiers or riders, you need a good helmet.
Ski and Snowboard Helmet Components
Of course, helmets differ depending on the sport you prefer. So there is a difference between snow helmets and bike helmets. Helmets are designed for specific sports and have specific features such as ear coverage, moisture-wicking liners, and temperature-sensitive materials. That is why it is important to pay attention to absolutely all the details when choosing a helmet.
All helmets are composed of a shell and inner liner. The shell is the outer layer of the helmet, it is a rigid surface, which is usually made of ABS high-impact plastic. This surface is designed to protect the head against knocks and abrasions. Also during a fall high-impact plastic helps spread impact energy. Thus, the outer layer of the helmet must be durable and shock-resistant.
Typically, the inner liner is made from expanded polystyrene (EPS for short), as it is designed to absorb impact. Since winter sports such as ski and snowboard can be dangerous, it is important to choose a helmet that cushions the impact. A helmet, like other equipment, does not last forever, therefore, after a serious blow or injury, you should definitely replace the helmet. As a precaution, do not wear a damaged helmet as it may not be able to protect you next time.
Ski / Snowboard Helmet Construction
Typically, two types of constructions are distinguished: in-mold helmets and injection-molded helmets. Study the information about each of them.
In-mold helmets are sleek and lightweight, making it comfortable to wear. They are made by attaching the shell and shock-absorbing foam in a single molding process.
Injection-molded helmets are made from expanded polystyrene bonded to a separate shell. However, compared to the previous design, these helmets are heavier but more durable. Thus, they are more impact resistant and protect you better than in-mold helmets.
Ski / Snowboard Helmet Sizing and Fit
Choosing the right helmet sizing and fit is very important, as this not only helps you feel comfortable but can also prevent you from falling. Of course, the easiest and most convenient way to find the perfect helmet is to try it on at your local store. It is important that the helmet sit on your head correctly for best protection, as this is its direct function. Comfort is also important, so make sure your helmet is comfortable to wear before purchasing. Also, if you have the opportunity, take goggles to the store and try them on with your helmet.
What if you don't know your size?
If you're in an REI store, you can just try different sizes. You can also contact a consultant who can help you choose a helmet for your head size. However, if you don't have this capability, you can measure the size of your head using a tape measure. All you have to do is position it above the ears and about 1 inch above your eyebrows. Thus, measure around the largest part of your head will help you to determine the circumference of your head. The helmet packaging has a chart where you can find your size. Thus, it is not that difficult, and in any case, the consultant will be able to help you if necessary.
How to check the fit?
It is very important to choose the correct fit of the helmet in order to feel comfortable and avoid injury. When choosing the fit, you need to find a middle ground, the helmet should feel snug but not tight. Shake your head and if the helmet shifts then you should try the smaller size. If everything is fine with the size, try to adjust the sizing mechanism or use thicker sizing pads.
If you have brought goggles with you, please note the following: There should be no gap between the top of your goggles and the helmet. The helmet should fit snugly against the top of the goggles, but should not obstruct the view or push the goggles down. Remember to protect your forehead! The helmet should be low enough to protect it, usually no more than 1 inch above the eyebrows. Also, check that there are no gaps between your head and the helmet lining.
Pay attention to the chinstrap as it needs to fit back against the throat. This way you can reduce the chance it will come off when it is impacted. Also always fasten the strap before riding!
Remember that you should be comfortable in the helmet, without feeling choked or pinched. Thus, if something bothers you when trying on, contact a specialist and ask your polls to feel comfortable and secure your ride.
Ski / Snowboard Helmet Features and Accessories
When choosing a helmet, pay attention to accessories and other features that may be useful to you. For example, some riders are looking for camera mount helmets. If you're looking for something like this, then it's worth knowing that some helmet styles now include a built-in camera mount. Thus, Helmet-mounted cameras can be a great addition if you like to record your tricks on video. Also, some helmets come with built-in speakers, so you can listen to your MP3 player or radio, which will be very convenient if you spend a lot of time on the snowboard. Moreover, currently most helmets allow for direct attachment of your goggles.