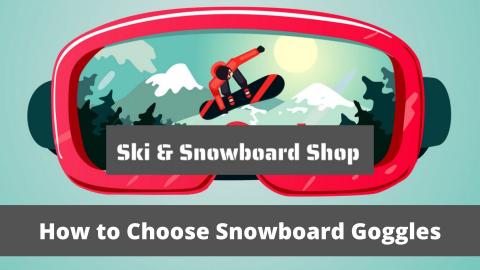 If you are packing up for the mountain you need good equipment in order to feel good all day. Snowboarding goggles are an important component of good equipment. If you are a seasoned snowboarder, then you probably know that the typical colors for low light lenses are rose, yellow, and blue. For flat light it is better to use ski & snowboard goggles that have a VLT ranging from 60-90%, and other lenses will be good for a typical sunny day with good visibility. Thus, it is important to choose good goggles in order to feel not only comfortable but also confident.
How do you choose the best Ski & Snowboard Goggles?
Definitely, it's best to stick with Lens, Size and Fit
As you know, goggles are an essential part of a snowboarder's or skier's equipment. You might not know, but ski and snowboard goggles do a number of important functions, such as providing protection from wind and cold. However, it is important to pay attention to traits such as lenses, frame size and fit. Of course, in order to find the goggles that work for you, you need to know some basic information that can help you. However, what is the most important difference between goggles? These are lenses.
Google Lenses
It is very important to choose the right lenses to help you see better in certain weather conditions. In order to do this, it is important to consider factors such as lens type and lens color, and also pay attention to fog prevention and glare protection. There are two main types of lenses for new goggles, they are Cylindrical (or Flat) Lenses or Spherical Lenses.
Cylindrical (or Flat) Lenses are inexpensive and offer reasonably good performance. This type of lens curve horizontally while remaining flat vertically. However, they do not offer the best peripheral vision or glare protection as the next option.
Spherical lenses. Unlike Flat Lenses, Spherical Lenses curve both horizontally and vertically. There are many benefits to wearing this type of lens, such as less fogging and less distortion and better peripheral vision.
Color & Tint
As mentioned, it is also important to pay attention to Color & Tint.
If you have cloudy vision during weather such as a snowy day, or are blinded when it's sunny, this can be not only uncomfortable, but also quite dangerous. Therefore, it is very important to choose the correct lens color in order to reduce the likelihood of injury. Of course, there are now several dozens of ski & snowboard goggle lens colors, which can also be different depending on the brand. Thus, each color will filter light differently and offer different benefits depending on weather conditions.
What is Ski & Snowboard Goggle with Visual Light Transmission?
If you've never heard of Visual Light Transmission (abbreviated as VLT), then you need to read further information as it can help you choose the best lenses.
Visible Light Transmission is the amount of light a goggle lens allows to pass through. So the percentage of light allowed through the lens is between 0% and 100%. What is VLT for?
As you know, weather conditions do not always meet our expectations, and you need to be prepared for conditions such as fog, falling snow or flat light. Thus, some lenses are designed to be used in low light, low visibility situations. These lenses require an increase in the VLT percentage. If you are wondering which lenses are suitable for low light, then these are rose, blue and yellow. If you want to select the best goggles for flat light then VLT should range from 60 to 90 percent.
Other lenses are geared towards sunny days, great weather and good visibility and are designed to keep the light out. Of course, fair weather lenses will have a lower VLT percentage, which typically ranges from 5 to 20 percent. These glasses come in dark colors such as black, gold or gray. Also a distinctive feature of these ski & snowboard goggles is that they are often mirrored.
Of course, there are also lenses that are suitable for all, especially changing weather conditions. Thus, you can always ask the consultant to tell you which lenses to choose, explaining to him under what weather conditions you want to ski and snowboard. Each brand comes in a variety of shades to suit different weather conditions.
You may also have heard of Interchangeable Lens Ski & Snowboard Goggles. Of course, if you spend a lot of time in the mountains, then you have to face a lot of weather conditions. Even though there are all-weather lenses out there, none of them can provide you with excellent quality for all weather conditions. So having multiple lens colors can help you improve your visibility throughout the day.
Of course, manufacturers have already come up with a large number of ways to simplify lens replacement with easy to use toggles. Undoubtedly, quick-changing lens systems are more expensive and suitable for professionals and people who spend a lot of time in the mountains. Thus, by using interchangeable lenses, you no longer need to carry a second pair of glasses with you.
If you are wondering how many goggles or lenses do you need, then it is worth understanding that it depends on the amount of time you spend in the mountains and your level of training. Most people use only one goggles with only one lens option. Thus, depending on the weather conditions, you can take a dark lens for sunny days, or several pairs if you are used to riding in all weather conditions. Also, beginners prefer to snowboard only in good weather and this is reasonable enough so it is better to use one googles. However, for a professional, it is better to have several pairs of googles or one pair of googles with interchangeable lenses.
Additional features of Ski & Snowboard Lens
Of course, in addition to the type and color of lenses, there are many functions that can be useful for a person who spends a lot of time in the mountains. Learn the main features to look out for when choosing lenses:
Mirrored Lenses. You may not be aware of this, but coating on the outside of the goggle lens reflects more light than non-mirrored lens. Thus, the advantage of this feature is that these lenses transmit much less light and increase visual clarity in bright sun conditions.
Double Lenses also have a number of benefits. They reduce fogging by creating a thermal barrier. Double lenses are now used in all new ski and snowboard goggles.
Polarized lenses act as a filter of vertical light, so they cut glare much more efficiently than standard lenses. Another benefit of polarized lenses is improved visual clarity and increased contrast and definition. Thus, they are great for winter sports. Another benefit is the reduction in eye fatigue and strain.
UV Protection is also an important feature of ski and snowboard goggles, which is why almost all new goggles have 100% UV protection. Thus, protecting the eyes from harmful UV can prevent both retinas damage and eye fatigue.
Anti-Fog Coating can reduce a goggle's tendency to fog thanks to a hydrophilic chemical treatment to the inside of the lenses. Of course, the quality of the coating can vary, so some coatings are more durable than others. Also, when choosing glasses with anti-fog coating, it is important to study the instructions, as poor care can lead to wiping off the anti-fog coating
Photochromic lenses adapt to changing light conditions so they become darker or lighter when exposed to ultraviolet light. Thus, the ability of lenses to adapt to conditions makes them comfortable due to their versatility. The downside to photochromic lenses is that it can take a few minutes for them to adapt to lighting.
Ventilation
The ventilation of Ski & Snowboard goggles also has a number of important functions. It should be noted that almost all quality goggles have vents, however, of course, the quality may vary. Important: the more ventilation, the better the prevention of fogging. Do not cover vents as this will cause your glasses to fog up. Also note that the venting system in your goggles must be compatible with the shape of your helmet.
Ski & Snowboard Goggle Frames
Surely you know that there are a huge number of different shapes and sizes of frames. Many people choose them to keep their personal style, but the frame serves a number of important functions. Thus, the frame is influence on the fit and field of view. If you don't know the basic functions of an eyeglass frame, now is the time to learn them. So goggle frames should make your face feel comfortable, hold your lens in place, and keep snow out.
Of course, the size of the frame can also vary, even though any adult can fit into multiple sizes of goggles. However, often the size of the frames depends on the size of your head. Thus, if you wear a small helmet, then you should choose a small frame and, on the contrary, for a medium helmet, a medium frame will do. The small frame will fit children, youth or adults with a smaller faces, the medium frame will fit the average person.
Particular attention should be paid to a large or oversized frame ski & snowboard goggles. Few people know that the size of glasses depends not only on the size of the head. Many manufacturers produce oversized glasses to improve peripheral vision. It's worth noting, though, that not everyone's face fits a large, oversized goggle, and nor are all helmets compatible with them.
However, large or oversized frame ski and snowboard goggles give you a bigger field of vision generally both horizontally and vertically, so you get better peripheral vision, which is very important for snowboarding, and a better view of what is above and below you, which is important for steeps.
Over the Glasses Ski & Snowboard Goggles
Have you heard anything about OTG (Over the Glasses) Goggles? If not, then you should definitely study this information!
Over-the-glasses, ski and snowboard goggles were created for people with poor eyesight. Thus, it allows people to wear your prescription eyeglasses under your ski or snowboard goggles. Of course, this option is much cheaper than ordering a goggle with a custom prescription lens. A distinctive feature of OTG пoggles is that they are deeper than regular one and also have channels built-in for the arms of your glasses. It's important to try them on and make sure that your glasses don't move inside the goggles and that there is no discomfort or pressure from your glasses on your nose. Thus, try on several pairs in order to find the most comfortable for you.
Other features to look out for
When choosing glasses, pay attention to face foam. It is very important that the foam followed the curvature of your face without pressure points. You want the glasses to be consistent and not have gaps between the foam and your face, so wind or snow should not fall there. If you feel uncomfortable, then most likely the glasses are not suitable for you and you should look for others where you will feel comfortable. There are also glasses that compensate for different face shapes so it's worth asking a consultant if you need help.
Strap is also important when choosing ski and snowboard goggles. They usually have adjustable strap so you can tighten or loosen the strap to get the right fit on your head. Please note that the strap should not be too loose. Also remember that wider straps are much easier to adjust so they stay put much better.
Moreover, it is important to consider the compatibility of the goggles with the helmet. Your goggles should fit smoothly on your face. Thus, if they deform when the strap is tight, then another model is worth trying. You can also ask a consultant to help you. You should also avoid "goggle gap" as you can freeze.