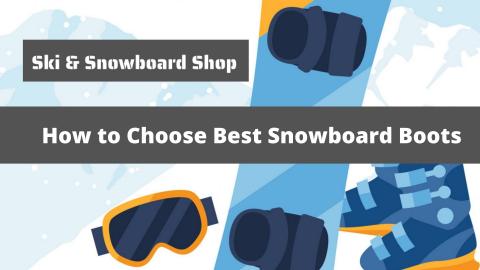 Criteria for choosing the best Snowboard Boots
The wintertime of the year is a great chance to master a new sport or the opportunity to continue developing your skills. Snowboarding continues to be one of the most exciting and in-demand winter sports, so whether you are a beginner or an experienced snowboarder, this is your way of having a great time in winter.
However, in order to feel safe and comfortable, you need good equipment, and special attention should be paid to snowboard boots. When assembling a board-boots-binding setup, the boots should be the first thing you buy. Thus, sometimes you need to spend more money to ensure you get the right fit. What's more, it's important to know that the snowboard boots you choose should suit both your riding style and the weather conditions. Thus, it is important to pay attention to such factors as comfort, lacing system, riding style, and boot flex. So there are many criteria to help you choose the best snowboarding boots.
Comfort
It is probably not worth spending a lot of time talking about comfort, since any sane person understands that any shoe or boot should fit well so that there are no difficulties with long-term wearing. So, before you buy snowboard boots, compare several options and make sure the boots you choose are the most comfortable for you.
Lacing Systems
It is important to pay attention not only to the comfort of the boots, but also to the snowboard boot lacing. In order to avoid blister-causing pressure points, your boots must be laced tightly and comfortable. If we talk about ankles and heels, then they should stay in place with minimal heel-lift.
Lacing systems vary, but most boots come in one of three - traditional, quick-pull or Boa. If you don't like any of these systems, you can find boots with a hybrid design that blends 2 of these systems. If you want to know which one will be the best, then there is no clear answer here, since each of them meets the requirements and it is convenient and safe. Thus, the choice of systems often depends on your personal preference, as one system can help you feel comfortable while the other does not. You can read the advantages and disadvantages of each system to find the solution that suits you best.
Traditional Laces is the choice of the majority, as it is not only reliable, but also time-tested. Advantages of this choice: you can custom tightness of the fit by hand, and you can also find replacement laces if you do not like the standard ones and want to buy others. Moreover, it is inexpensive, so everyone can buy a traditional laces. However, there are drawbacks that are worth paying attention to. For example, it will be difficult to tie laces while wearing gloves. Untended loosening can also occur, so consider whether this is right for you or not.
Quick-pull Laces is a corset-like lacing system. Since this system is single-pull, it will be easy and quick to lace up boots. Also Quick-pull Laces accommodates zonal tightening. The advantages are that it is not only fast but also convenient to use a quick-pull system. Also you can tighten it while wearing gloves. The disadvantages are the following: some people find this system difficult and it takes effort to tighten the laces tightly. If lace breaks it can be a problem and you may need to stop riding that day.
The Boa System is also popular as Boa permits a very precise fit around the foot and lower leg. The advantage of this system is that it is fast, lightweight and comfortable to use, as you only need one hand to lace up the boots. Also this system can be adjusted while wearing gloves. The main advantage of the Boa System is that it offers a fine-tuned fit. The disadvantages are that the lower foot regions cannot be independently customized, and the Boa System is the most expensive.
Riding Style
Your riding style is very important when choosing boots. As you know, the most famous are the all-mountain, freeride and freestyle. If you do not know which category you belong to, then you can study a brief information about these three styles.
As a rule, most riders prefer all-mountain, so they need the most comfortable and flexible boots. If you are a beginner, then you should choose softer boots, but if you are an experienced rider who loves speed, you should choose stiffer boots.
Freeride includes off-piste terrain and some groomed runs. This style requires speed and precision, so stiffer boots are a great option.
Freestyle is usually focused on entertainment such as half-pipes, jumps and spins. This style requires agility and quick reactions, so soft and flexible boots are essential.
Boot Flex
It is very important to choose boots that match your riding style. Thus, boots can be soft, medium or stiff.
Soft-flexing snowboard boots are great for long days in the mountains. Since they are made from comfortable and resilient materials, your feet will feel as comfortable as possible.
Medium-flexing snowboard boots are a great option for all-mountain lovers. Thus, these boots are also comfortable and mobile.
Stiff-flexing snowboard boots will be good if you like high speeds and tough conditions. Thus, this type of boot is more suitable for professionals than for beginners.
In any case, if you do not know what to choose, you can ask the consultant in the store to help you, as well as call the store and talk to an expert. You can also try on multiple pairs to make sure the boots you choose are the best fit for you.