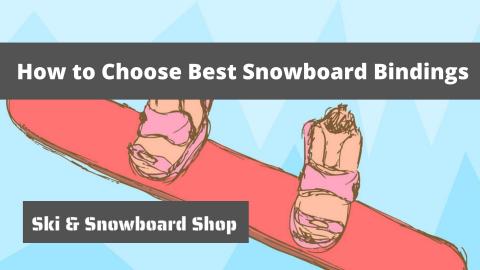 Choose the right Snowboard Binding type for your level
Explore the information on the types of bindings such as strap bindings and speed-entry bindings, and discover their pros and cons.
The choice of flex of your snowboard bindings often depends on your level of ability. Whether you are a beginner or an experienced rider, flexibility is an important factor to keep in mind. Moreover, the flexibility must be appropriate for the terrain you are riding and the flexibility of your boots. If you are a beginner then bindings with short, flexible highbacks are for you, as they help you provide a softer ride and easy landing tricks. Freestylers also prefer this type of bindings.
Freeriders, like experienced riders, choose bindings with tall, stiff highbacks. This type of bindings is ideal for them as they need control at high speeds and on steep terrain.
Choose Snowboard Bindings by Snowboarder Styles
As you know, riders choose boots depending on their riding style: freestyle, freeride or all-mountain. The binding is often chosen in the same way.
All-mountain is focused on any terrain, including groomed runs, powder, and pipe. Thus, depending on the terrain you prefer and the level of your snowboarding, you can choose flex levels of bindings. If you want to know the majority opinion, then many riders use soft and sometimes medium flex. If you want to know about racers, they prefer stiff flex.
Freestyle focuses on tricks like spins, jumps, tricks. Since maneuverability and turning ease are important freestyle skills, soft flex is worth choosing.
Freeride focuses on unmarked backcountry and sidecountry terrain. Control is important for freeriding, which is why stiffer bindings are recommended.
Binding Types
It's important to pay attention to the types of Snowboard Bindings. Explore the main ones and their advantages and disadvantages.
Snowboarding Binding Straps
Strap Bindings are the most common type of snowboard bindings, strap bindings feature straps that ratchet down. So tit is done in order to secure your boots in place, and the highbacks also cannot move. Strap bindings are also great in that they have multiple adjustment options and also provide support. It's also important to note that strap bindings are suitable for both soft and firm-flexing boots. On the downside, buckling and unbuckling the straps can take a long time. Thus, if it is very cold outside, it will be difficult to use strap bindings.
Speed-entry Bindings
Speed-entry Bindings are similar to the previous type, however have reclining highbacks. It is the highbacks that allow you to quickly take off and put on your boots. Thanks to this type of attachment, your feet will be stabilized. In general, speed-entry bindings are heavier than strap bindings, so some riders find this to reduce board control. Speed-entry bindings are generally good as both soft and firm-flexing boots.